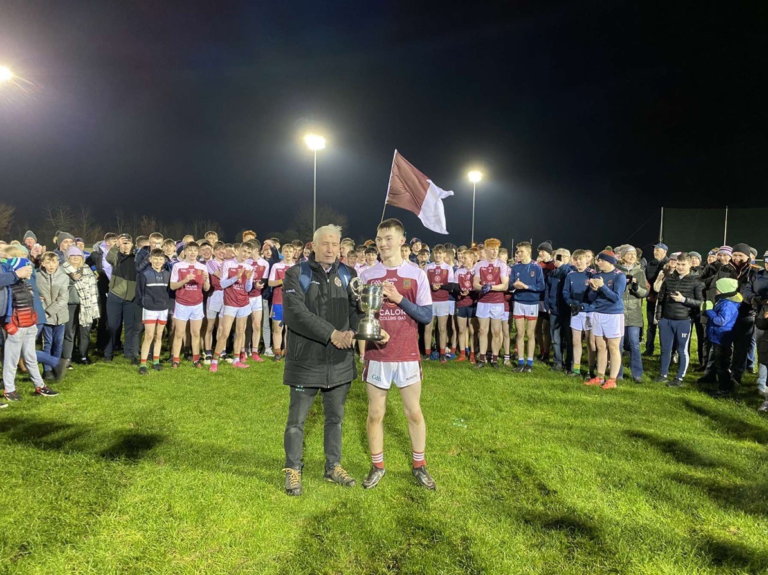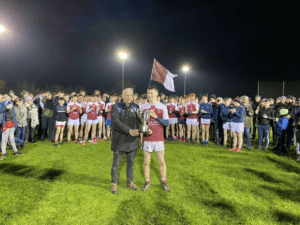 Written by Conor Monaghan 3W
The Arthur Cup (U16.5) final took place at Templeport St. Aidan's GAA pitch and pitted Bailieborough Community School against St Columba's, Glenties, Donegal after the sides had beaten opposition from around Ulster to qualify for the decider.
The winter conditions hung around before throw-in but large crowds from both schools came out to support them for this Ulster final. It took a few minutes for the game to warm up as both sides adjusted to the poor conditions.
The Glenties opened the scoring after eleven minutes. The Glenties then had a goal chance go narrowly wide of the post. Barry Cahill levelled the game after sixteen minutes with a fine free. Moments later, the tricky Cormac O'Reilly provided the Bailieborough-based side with a crucial goal to see them take the lead. They made this period of pressure count, scoring 1-2 in a matter of minutes after a right-footed point by Andrew Hill. The Glenties had a goal chance of their own after a high ball in; however, it was well dealt with by keeper Liam Bell. After a free by Conor McIntyre and a number of wasted opportunities by both sides meant that the Community School went into half-time five points ahead.
St Columba's came out after the break full of energy looking to reduce the gap and took control of the ball for the first seven minutes of the half. However, they were unable to register one point for their attempts. The gap was further reduced after forty-five minutes after a free-kick from substitute Tiarnan Ward.
Substitute Noel McIntyre broke through the middle and saw his shot on goal deflected over the bar, which proved to be the decisive score for the victors. Conor Monaghan and Darren Clarke left very little room in the corners for St Columba's to exploit while anything that came down the middle was mopped up and dealt with by full-back Kenzie McCabe. The foundation set by the Bailieborough CS defence wasn't getting the
rewards it deserved as the conditions made it difficult for their attack to make the most of their opportunities.
After three quick scores for the Glenties the gap was reduced to one. As the volume of the supporters increased, the volume of the nerves began to echo throughout the grounds, and the tension of palpable. The experience of midfield duo, Michael Morrissey and Kyle McCabe became clear as they controlled the pace of the game in the final minutes. Despite continued pressure from the Glenties attack, they found it impossible to break down the rampant Bailieborough side. The final whistle blew as the triumphant Bailieborough Community School ended up one-point victors on a scoreline of 1-4 to 0-6.