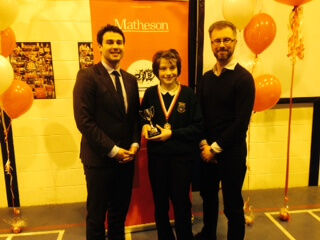 Well done to Emma Clarke and Tyra Maphumulo (1C) who represented Ulster in the National Mace Matheson Debates in Castleknock Community School on Saturday on the 12th of March 2016. As was expected both of these students gave stellar oratorical performances on the day and did their school and families very proud. On the day the both Tyra and Emma debated the following motions:
'This house believes that people should get paid to give up smoking'.
'This house believes that parents should be criminalised if their child misses 40 days or more of school'.
'This house believes that Donal Trump should not be allowed to run for the Republican party'.
This house believes that social media needs to respect the privacy of politicians'
Whilst Tyra and Emma did not compete in the Grand Final, they enjoyed listening to a somewhat polemical discussion around the motion 'This house would join the 1916 Rising'.
A special word of congratulations goes to Emma Clarke who won the National Mace Matheson's Best First Year Speaker Award. Emma also won the Ulster's Best First Year Award a couple of week ago. Well done Emma and Tyra and indeed all of the junior debating team.